Check out our case study to learn more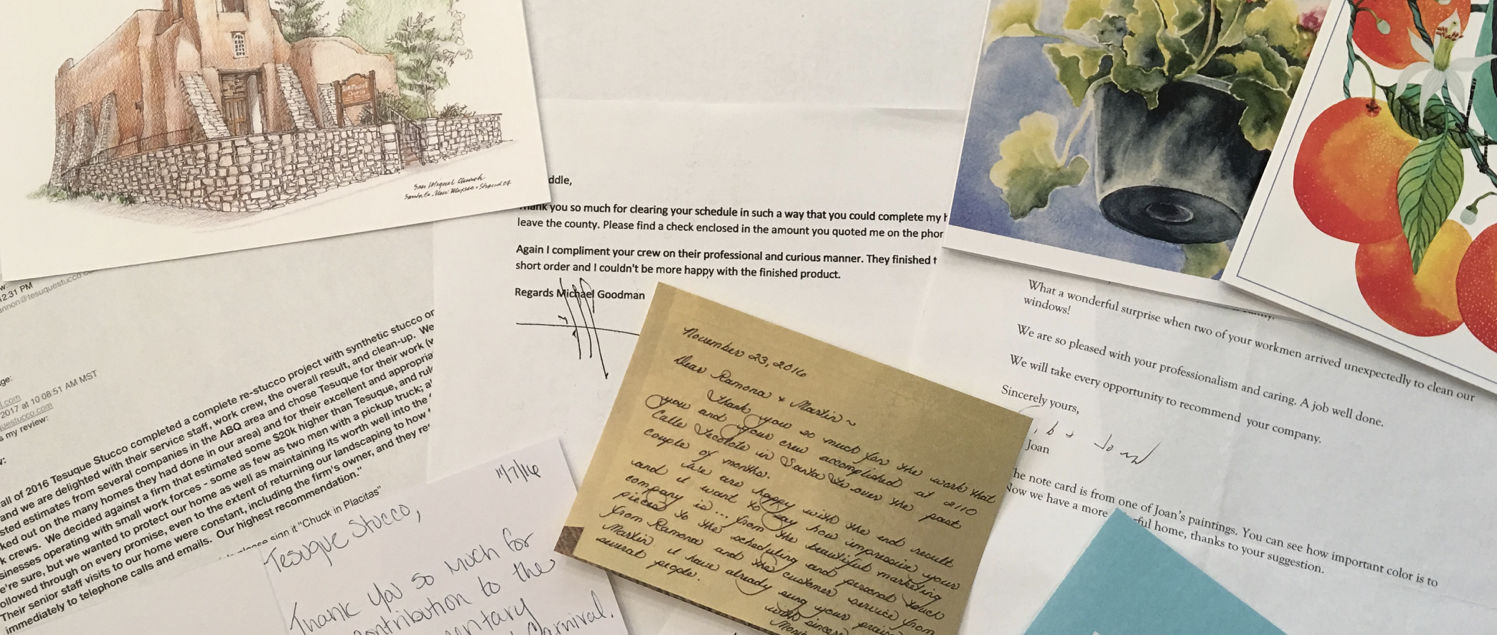 Michael G.
Mr. Biddle, Thank you so much for clearing your schedule in such a way that you could complete my house before I leave the country. Again I compliment your crew on their professional and courteous manner. They finished the job in short order and I couldn't be happier with the finished product.
Ben F.
About two years has passed since you plastered my adobe. Not a day has passed that I haven't enjoyed what I see. After being ripped off by two "licensed" supposed plaster experts, seeing your work is delightful. No cracks! Incidentally I bet one of your men $20.00 that the SW corner of the house would crack within a year. I owe him $20.00. If you can give me his name, address, I will send the bucks.
Rita, Rio Rancho
My husband and I just had a re-stucco job completed on our home. We live in one of those homes where the original stucco Pulte applied was, from what I understand, incomplete as only one coat of stucco was applied and then a coat of paint was applied. We can't thank Tesuque enough, the owner, along with Aaron and his team. They did a fantastic job. Their prices are competitive, the warranty is one of the best, if not the best in the area and their product is incredible. I can't tell you what a relief it is knowing that water can no longer penetrate the exterior and that the maintenance is minimal to ensure its longevity. If anyone is needing some stucco work done, my husband and I highly recommend Tesuque, truly a great company to work with.
Richard G.
In the last several years, we have used Tesuque Stucco Company three times. First, we had our house stuccoed in Rio Rancho and were very happy and satisfied with the results. Next, we hired Tesuque to stucco a house we "flipped" in Los Ranchos. Again very satisfied. Recently, we again hired Tesuque for major stucco repairs to an apartment building we own. All three jobs were done professionally and on time. Thank you Tesuque Stucco Company!
John H. B.
I would like to commend your company for the job done on our home. We chose Tesuque Stucco Company after receiving several bids for stucco and synthetic applications. You displayed a superior knowledge of the process and answered all of our questions with patience and courtesy. The crew that performed the job were courteous and professional. They impressed me with how efficiently they worked and the final product was first rate. Thanks to you and your crew. I will recommend your company to any of my friends and neighbors considering a re-stucco application.
Jackie H. & Glenn B.
Thank you for solving my recent stucco problem in White Rock. I appreciate your quick response and resolution. We really appreciate that Tesuque Stucco stands by their work and their customers! Thank you.
John S.
Martin! Just want to say thank you and the crew for an outstanding job! Really appreciate the way you took the extra time to explain things. Your guys work their tails off, and do beautiful work while at it, sorry I didn't get the chance to thank them personally. Again, thanks to everyone there, we couldn't be more pleased.
Lisa C.
Tesuque Stucco did an amazing job – professional people, excellent workmanship and it's beautiful!
Gib & Joan
Anthony, Martin and Kathy, we are so pleased with your professionalism and caring. A job well done. We will take every opportunity to recommend your company. We have a more colorful home, thanks to your suggestion.
Corrales Elementary PTA
Tesuque Stucco, Thank you so much for your contribution to the Corrales Elementary PTA & Fall Carnival. Your donation was truly appreciated. We look forward to working with you in the future.
Pete and Chris S.
Martin, I just talked with Anthony to tell him that upon our arrival to our home, we were absolutely elated to find our re-stucco work by your crew in rock solid condition after now one year. The parapets, a major player in the failure of our first stucco, are beautifully rounded solid and not a crack showing. It was a very stressful situation for us to have to re-do the house exterior, but we greatly relieved and happy with your wonderful job! Thanks to you, Anthony and Ruben and crew!
John & Karla
Thanks again for helping fix our cracks. The time and effort Tesuque Stucco made to get our home to "a work of art" was well worth it to us. We will not hesitate to recommend them!
Monique & Mark
Thank you so much for the work that you and your crew accomplished over the past couple of months. I want to say how impressive your company is – from the beautiful marketing pieces to the scheduling and personal touch from Ramona and the customer service from Martin. I have already sung your praises to several people!
Via Angie's List
The project was not easy or your typical project. The building had been there for 15 years and needed stucco badly. We discussed what would be needed to make the project last and we agreed on a price and timetable. The crews were professional and timely. The project was completed in promised time. The company truly changed the building from a sow's ear into a silk purse.
Jolene B.
Excellent! Very well managed company. Very skilled and professional start to finish!
Chuck, Placitas
In the fall of 2016, Tesuque Stucco completed a complete re-stucco project with synthetic stucco on our home, and we are delighted with their service staff, work crew, the overall result, and clean-up. We had requested estimates from several companies in the ABQ area and chose Tesuque for their work (which we checked out on the many homes they had done in our area) and for their excellent and appropriately sizable work crews. We decided against a firm that estimated some $20K higher than Tesuque, and ruled out the businesses operating with small work forces. Tesuque followed through on every promise, even to the extent of returning our landscaping to how they found it. Their senior staff visits to our home were constant, including the firm's owner, and they respond immediately to telephone calls and emails. Our highest recommendation.
Josh W.
Our house looks great. They were able to repair our badly cracked original stucco, and covered it in a thick layer of Dryvit synthetic. Martin took a lot of time with us to explain the options and make sure we were happy with the work after the fact. I would use them again.
James F.
Everything is perfect and I am extremely satisfied with everything your company did. If you need a referral I'd be happy to give it. Thank you very much for all your help.
Bob & Leigh Ann C.
Dear Martin, Many thanks to you and your crew. We are very pleased with the final result of all the preparation, stucco application and clean up; and take comfort in knowing that the job was done right. All your efforts to get the work completed in the few days when the weather was favorable are greatly appreciated. Your crew worked diligently and was always professional and polite. Count us among your satisfied customers!
Courtney H.
All of the workers were very efficient. The stucco on my house was completed far faster than I had imagined. The end result is wonderful! I couldn't be happier with this company and the job that they did!
Percy A. via Facebook
100% reliable company. I totally recommend Tesuque Stucco.
Mike via DexKnows
Great job on our home. Workers were very professional and did a excellent job on the application and on the clean up. I would and have recommended this company. The house looks like new and all the neighbors have complimented us.
James F.
Everything is perfect and I am extremely satisfied with everything your company did. If you need a referral I'd be happy to give it. Thank you very much for all your help.
Margaret K.
We recently used Tesuque Stucco for our older home. It needed many stucco repairs as well as a new coat. The Tesuque team did a fantastic job. They took care of the repairs and then did an amazing job putting on new stucco. Their team was professional, well mannered and efficient. They worked through one very cold and windy day to get the job done in a timely fashion. When finished, they cleaned up. We have had many compliments on our home in the last few weeks. Thanks Tesuque Stucco!
Curious about the bidding process?
Read Our Case Study