TOP QUESTIONS TO ASK YOUR STUCCO CONTRACTOR
HIRING THE RIGHT STUCCO CONTRACTOR
There is a lot to consider when choosing a stucco company.  Unfortunately, when hiring a stucco contractor, not all provide the same level of craftsmanship, expertise, safety, and certification, and it can be easy to get taken advantage of without doing some research. At Tesuque Stucco, our award-winning stucco jobs come with the industry's longest FACTORY warranty, specifically devised for Tesuque Stucco due to our flawless record with our suppliers over the past twenty-two years. 
Below is a list of crucial questions we answer in detail to assist you in making your final decision. 
DO YOUR STUCCO JOBS COME WITH A WARRANTY?
Yes. With so many stucco contractors to choose from, how can you know if you're getting your money's worth before it is too late? You should research and evaluate the company and ask about their warranty. Moreover, how long has the company been in business versus the length of the warranty?  Has the company ever been "rebranded?" Some contractors shut down and rename their company every five to ten years, eliminating all their responsibilities to their prior warranties with no legal repercussions.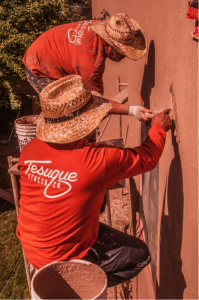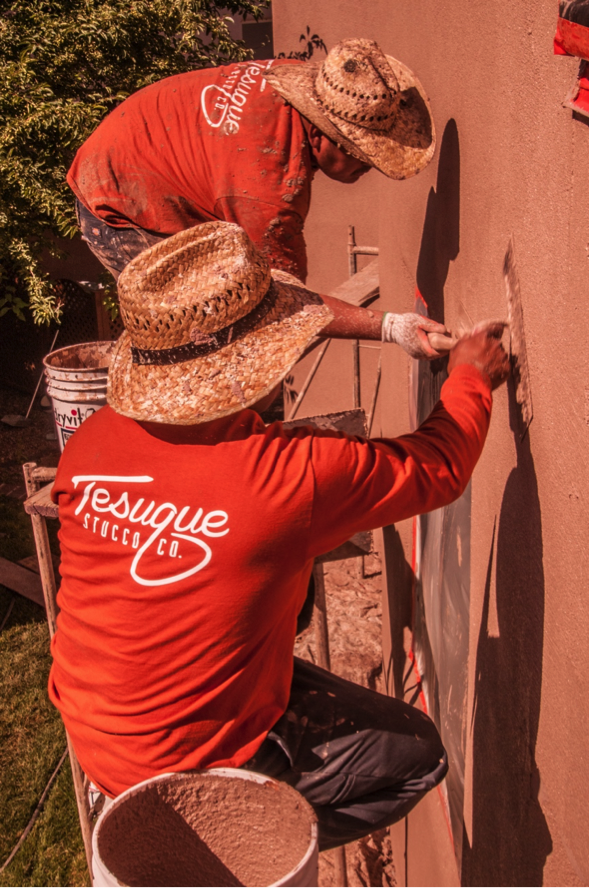 Tesuque Stucco has been in business since 2000, performed thousands of completed residential re-stucco jobs, and has kept the same business license, insurance, owners, and even phone number since day one.  We provide a 12-year FACTORY warranty backed by a 700-million-dollar company that has been in business since 1928.  Additionally, we provide a Tesuque Stucco 12-year guarantee to give our customers the ultimate backing and peace of mind.  Both of these warranties are fully transferable at no cost to you, for as many times as the home changes hands.  No one else can or will provide you a more extended warranty. 
So the bottom line is: a lesser warranty term points to cheaper and inferior quality materials and/or a contractor who uses subcontractors without factory training or accredited certification to properly install the materials. Read more about our warranty here.
DO YOU HAVE A VALID CONTRACTOR'S LICENSE AND THE APPROPRIATE INSURANCE?
Contractors lacking insurance, bonding, and licensure can be enticing because they often give a very low-price quote on a project. Don't fall for it. If something goes wrong, you are unprotected and can be liable for any damage or injury to a worker.  Also, if the unlicensed Chuck in a truck were to run off with your money or perform half the job or a disastrous job, legally recouping your funds will be nearly impossible.  
Unlike big box store companies that offer subcontracted windows, roofing and, stucco, Tesuque Stucco is licensed specifically for interior and exterior stucco services. We focus on a single specialty so that we can devote all of our knowledge and expertise on stucco applications. Tesuque Stucco is not only certified to apply stucco products to residences and businesses, but we are also fully insured. We carry premium levels of worker's compensation insurance to protect the workers, and general liability should inadvertent damage occur to one's home. For added security and protection, we are also bonded. Furthermore, we are proud members of the National Association for Home Builders, the NAHB Remodelers Council, A+ members of the Better Business Bureau, and active members of the community.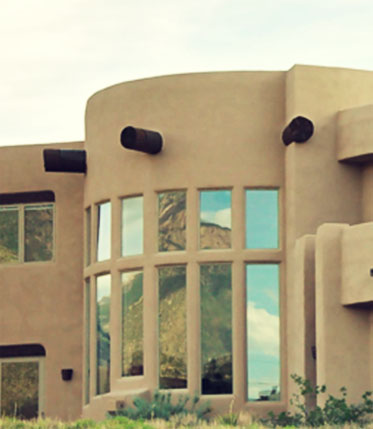 WHAT PRODUCTS DO YOU WORK WITH? 
At Tesuque Stucco, we stay on the cutting edge of stucco technology by working with industry leaders like Dryvit. High-performance Dryvit stucco products offer the most significant protection, promoting water-resistant and high-elastic finishes that withstand our unique southwest climate.
Keep in mind that not all stucco products are created equal. In fact, far from it. The skilled application and products deliver the results. There are no "good deals" in the stucco market.  Be wary of contractors who use cheap acrylic-based stucco that will crack over a short period of time, most commonly less than five to eight years.  Instead, look for stucco contractors who work with high-performance, elastomeric stucco finishes that are created to withstand intense UV rays, resist water intrusion, and promote flexibility in the finish.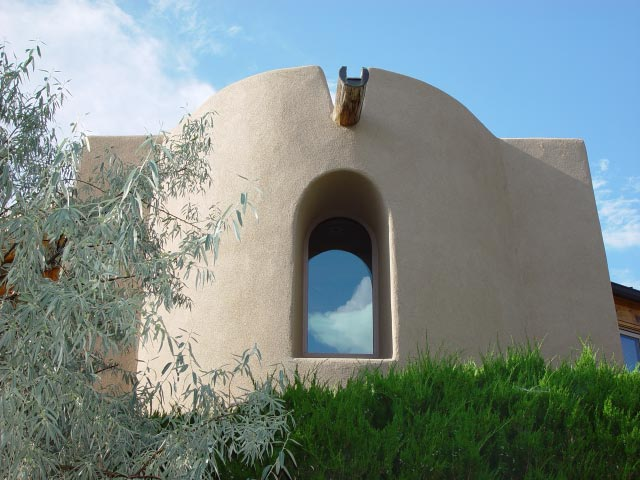 When it comes to parapets, there are only two specific "resin" products used to over-engineer and waterproof the parapets on flat roof pueblo-style homes. We have used them both for 22 years. We can explain the differences and the sub-par products used in their place by nearly every other stucco company in New Mexico. 
Do not confuse elastomeric stucco with "stucco coatings" or elastomeric paints, which can damage your stucco and broadcast the crack repairs through the coating due to their lack of thickness.  The top of the line elastomeric stucco we use does not trap moisture and is twelve to eighteen times the thickness of paint.  Not once in over 2,500 synthetic elastomeric jobs has our stucco caused damage to the home or building by trapping moisture, nor has the finish itself been damaged by trapping moisture. 
DO YOU HAVE TESTIMONIALS OR REFERENCES FROM PREVIOUS CLIENTS?
We believe references speak for themselves. If your stucco contractor doesn't leave behind a trail of happy customers and a robust body of references, you should instead rely on a contractor with proof of a job well done. We can provide you referral lists of homes completed in your area with an array of colors to see, and our estimators will be happy to offer you their own lists of delighted customers you could contact as well.
Read Tesuque Stucco testimonials here. 
HAVE QUESTIONS? LOOKING FOR A QUOTE?
Our team is here to help – contact us today!